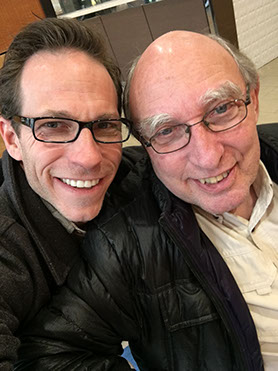 THE CRAFTSMAN
Stephen Levit is a woodworker. He is a craftsman. He is meticulous. Stephen Levit is my father. My entire life, I have been eating on beautiful wood tables that he has built. I have been sitting in chairs that he has handcrafted – chairs that seem to come from another era but are no doubt modern. I have displayed bowls in my home that he has hand turned. I have written my correspondence with pens that he has carefully crafted.
My father has been and done many things. He was in the Navy, aviation branch; he was a manufacturing and business consultant, he is a published author of "Quality is Just the Beginning" by McGraw-Hill; he has been a ski instructor; he's a photographer; he raced motorcycles; he's a public speaker; he has owned his own employment company and managed his own consulting firm. And, as a magician himself, my introduction to the art was from him. But, ever since he helped me build my first wooden race car for Cub Scouts, to me he has always been a woodworker.
To walk into my father's wood shop, is like walking into Santa's Workshop. You just know this is where he is at home – this is where pieces of art emerge.
And his collection of magician's wands is no exception. From the time I asked him to make me a personal wand, he realized that he wanted to make wands for the magic community. I knew they would be beautiful, special and stunning.
Above all else, and beyond all that he has done in his life, my father is my hero.
– Jonathan Levit